Check out the best work boots for men
Below we take a look at men's work boots. Here are a few of the most popular products on the market.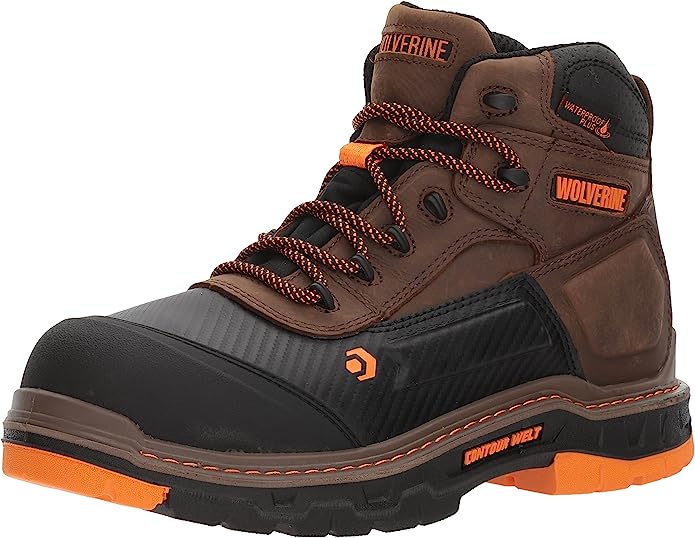 WOLVERINE Overpass 6″ Mid Composite Toe Waterproof Work Boot
Overall – 4.4/5 (10,000+ reviews)
Water resistance – 4.3/5
Support – 4/5
Comfort – 3.8/5
Meet your new go-to. The Wolverine Overpass features Contour Welt® technology providing the ultimate comfort and flexibility. Alongside that flexibility, the Overpass utilizes a lightweight rubber lug outsole and shock absorption that will keep you light on your feet and heavy on protection.
Established in Rockford, Michigan in 1883, Wolverine is an iconic American brand that combines superior materials with timeless craftsmanship. Wolverine boots are built to withstand the toughest of environments and provide all-day comfort. Today, Wolverine leads the industry with a relentless commitment to innovation and patented technologies including Wolverine Contour Welt, Wolverine MultiShox, Wolverine Durashocks, Wolverine DuraShocks SR, and Wolverine Fusion.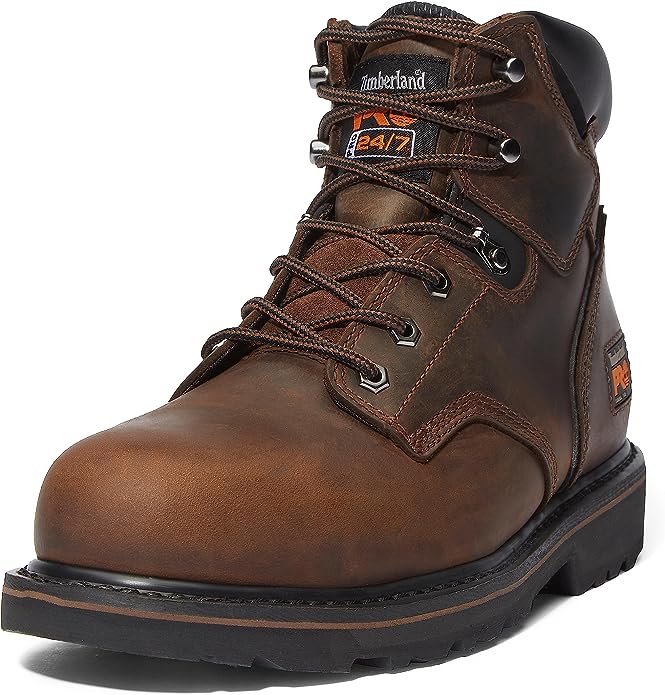 Timberland PRO Men's Pit Boss 6 Inch Steel Safety Toe Industrial Work Boot
Overall – 4.4/5 (28,000+ reviews)
Fit – 4.3/5
Support – 4.1/5
Comfort – 3.9/5
The Pit Boss is everything a work boot should be: Safe, tough, and really comfortable. First off, the steel toe construction meets ANSI safety standards and offers a roomier toe box than other boots. This means no foot pain even after long hours of hard work. You've also got an unsurpassed traction grip for working on wet or slippery surfaces and electronic hazard protection to keep you safe from open circuits. On the comfort front, a removable sock liner proves blisters don't have to go hand-in-hand with hard work. And finally, these boots aren't anything if they aren't tough. Go ahead, just try and wear them out.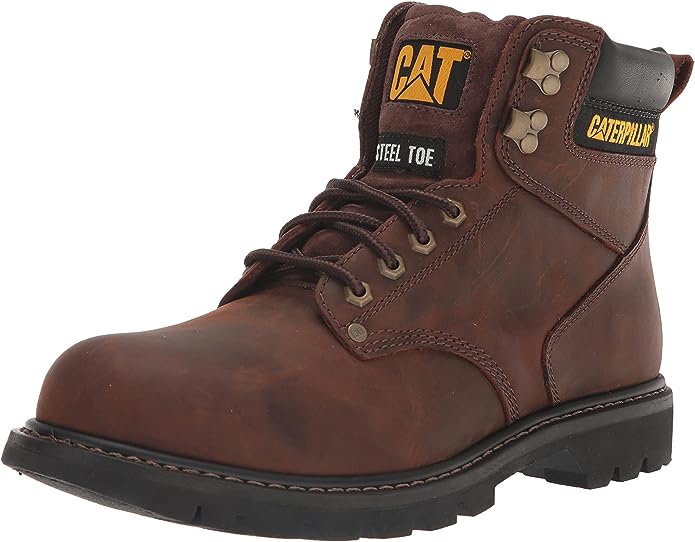 Cat Footwear Men's Second Shift Steel Toe Work Boot
Overall – 4.5/5 (17,000+ reviews)
Fit – 4.4/5
Support – 4.1/5
Comfort – 4/5
The Second Shift Steel Toe work boot delivers protection, comfort, and durability to get you through your day regardless of the work at hand. Rugged styling and quality leather make this boot an easy everyday choice on and off the job.
As the world's foremost manufacturer of heavy equipment, Cat Earthmovers is known around the world as a symbol of honest work, strength, and integrity. Cat Footwear makes boots and shoes based on these same principles. The brand has evolved from work boots into a range of industrial and casual footwear built with the sole purpose of staying true to its original goal–creating genuine, hard-working boots and shoes.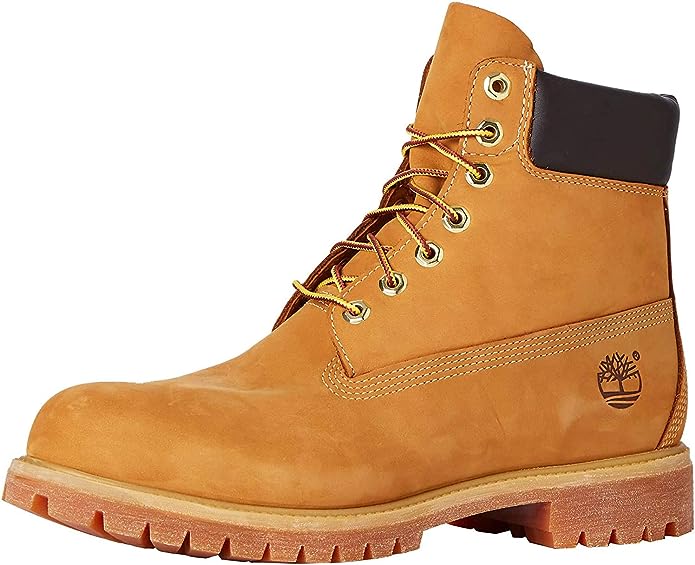 Timberland Men's 6-Inch Premium Waterproof Boot
Overall – 4.6/5 (13,000+ reviews)
Fit – 4.3/5
Support – 4/5
Comfort – 3.9/5
Leather boot featuring padded collar, lace-up vamp, and logo detail at side heel. imported. rubber sole. shaft measures approximately 6.25 from the arch. The heel measures approximately 1.25. platform measures approximately 75 boot opening measures approximately 14.5 around. 400 grams of primaloft insulation for superior warmth and comfort.
There's just no substitute for a sturdy, guaranteed waterproof boot to keep feet comfortable and dry, rain or shine. And Timberland has been making this one since they opened their doors more than thirty years ago. Rugged and dependable, they like to think of it as the role model for everything they make today.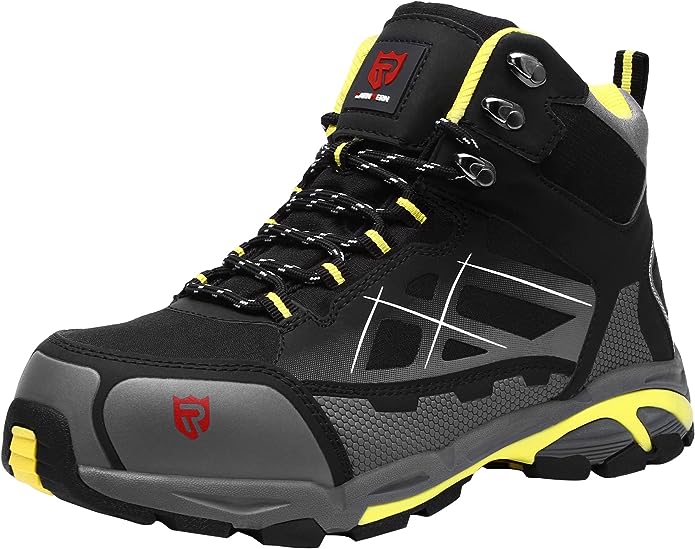 LARNMERN Steel Toe Boots Mens Outdoor Work Boots Safety Working Shoes Indestructible Industrial Construction Footwear
Overall – 4.1/5 (11,000+ reviews)
Value for money – 4.5/5
Support – 3.9/5
Comfort – 3.8/5
LARNMERN steel toe work boots provide full protection, the high top design allows you to keep your feet warm even in cold conditions. Our work boots provide anti-smashing, anti-puncture, anti-skid and anti-static functions, and designed to protect wearers from a variety of hazards. Whether in the face of crushing, bumping, sharp objects, static electricity, oil or water, or other conditions, the steel toe inside the shoe can effectively protect our toes. Although work boots are for working, it also should be fashion, wearing fashionable and professional LARNMERN work boots will make you fashionable and professional.
---
When it comes to manual labor and physically demanding jobs, the right pair of work boots can make all the difference. The right pair offers more than just comfort; it provides protection, support, and durability to withstand the rigors of the workplace. With a multitude of options available, choosing the best work boots for men requires careful consideration of factors such as safety features, materials, comfort, and style. This guide aims to help you make an informed decision that suits your needs.
Safety features
Safety should always be a top priority when selecting work boots. Depending on your job, look for boots that come equipped with safety features such as steel toes, composite toes, or alloy toes. These reinforced toe caps offer crucial protection against falling objects, heavy machinery, or other potential hazards. Additionally, some boots feature electrical hazard protection, puncture-resistant soles, and slip-resistant outsoles to minimize the risk of accidents and injuries in various work environments.
Material matters
Work boots are available in a variety of materials, each with its own advantages and disadvantages. The most common materials used for work boots include leather, synthetic materials, and hybrids:
Leather: Leather work boots are renowned for their durability, comfort, and ability to conform to the wearer's foot over time. Full-grain leather offers excellent water resistance and protection, making it suitable for a wide range of work conditions.
Synthetic Materials: Synthetic work boots are often lighter and more affordable than leather boots. They may offer features like enhanced breathability and waterproofing. However, they might not be as durable as leather options in the long run.
Hybrids: Some work boots combine leather and synthetic materials to provide a balance between durability, comfort, and cost-effectiveness.
Comfort and fit
A comfortable pair of work boots can greatly impact your overall work performance and well-being. When considering comfort and fit, pay attention to the following factors:
Arch Support: Look for boots with adequate arch support to prevent fatigue and discomfort, especially during long hours of standing or walking.
Cushioning: Proper cushioning in the insole and midsole can absorb shock and reduce strain on your feet and joints.
Breathability: Work environments can become hot and sweaty. Choose boots with breathable linings to help keep your feet dry and comfortable.
Proper Sizing: Ensure you choose the correct size and width for your feet. Ill-fitting boots can lead to blisters, calluses, and other foot-related issues.
Durability
Investing in high-quality work boots pays off in the long run. Look for boots constructed with durable materials and solid construction methods. Double or triple stitching, reinforced eyelets, and quality sole materials contribute to the longevity of the boots. While high-quality boots might have a higher upfront cost, they are likely to outlast cheaper alternatives, saving you money in the long term.
Style and versatility
While functionality is paramount, many men also consider the style of their work boots. Fortunately, modern work boot designs offer a blend of style and functionality. You can find boots that seamlessly transition from the job site to casual outings, allowing you to get more mileage out of your investment.
Conclusion
Choosing the best work boots for men involves evaluating a combination of safety features, materials, comfort, durability, and style. Keep in mind the specific demands of your job and the working conditions you'll face. Investing in a quality pair of work boots ensures your safety, comfort, and overall job performance. By considering these essential factors, you'll be well-equipped to make an informed decision and select work boots that cater to your needs and preferences.